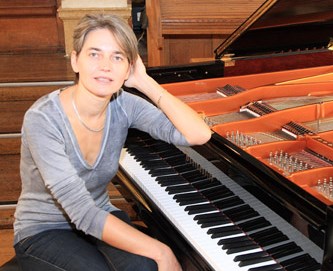 Sophia Vaillant studied piano at the CNR of Boulogne-Billancourt with Geneviève Ibanez. It continues at the same time his general training (Bachelor's degree and studying psychology at the Université René Descartes in Paris). In 1988 she received first prize unanimously of piano, in 1989 a first chamber music and then returned to the Conservatoire National Supérieur de Musique de Lyon in the class of Pierre Pontier. In 1992 she obtained the diploma National of studies higher musical mention very well unanimously to the instrumental test stay in. She became artist in residence: at the Banff Centre for the Arts (Canada), then Steans Institute for the Arts (Ravinia Festival, USA) and at the Académie Ravel (St Jean de Luz, France) finally.
Thanks to scholarships of the Ministry of Foreign Affairs (bourse Lavoisier) and patronage Société Générale, she worked two years at the Guildhall School of Music and Drama in London (postgraduate) and the University of Stony Brook in New York (master).
It then follows the advice of great masters: Georgy Sebok, Walter Levine, Alexander Volkov, Paul Berkowitz, Jean-Claude Pennetier, Olli Mustonen, Bernard Greenhouse.
Sophia was a finalist of the Yamaha Kemble Competition, semi-finalist of the YCAT and competition International of Illzach and Guildford Symphony Competition first prize in 1993.
Curious of the music of his time, Sophia Vaillant participated in the creation of contemporary works, including the whole moment gives, at the abbaye de Royaumont, the Oden set in Odessa, Ukraine with the Ensemble Fa conducted by Dominique My...... and is involved in several projects of improvised (with the painter Félix Rozen including) music and theatre (tournament of improvisation in Poitiers, Instants Chavirés Montreuil, composition of music for a music and theatre at Red Curtain creation(, at the Goethe Institut in Paris...).
She also devotes much of his time to tango played with the Juan Cedrón Tipica Orchestra, with whom she recorded a CD, and participates in several radio broadcasts (the madman of the King, under the stars, a perfect Tuesday). They happen everywhere in France and Europe (Concertgebouw Amsterdam, Festival Latino of Rotterdam, Quartz in Brest, Printemps de Bourges, New-Morning).César Stroscio, Nini and Rudi Flores, Nicolas Ledesma were also partners of tango.
She founded in 2009 the TamborTango group whose directory is part of a universe shared by traditional pieces and most modern of Astor Piazzolla.
His passion for chamber music, which allows him to play with artists such as PH Xuereb, P Müller, A Roussin, Y Chen, B Cazauran, V Mendelssohn (during school Britten in Périgueux including internships), also to be a member of the Trio Von Paris (with Sona Khochafian and Ariane Lallemand), does not neglecting his soloist career : numerous recitals in France (Salle Cortot in Paris, Académie musicale of Chartreuse, Salle Molière and Opéra de Lyon...), in Germany (Hannover), Netherlands, England (French Institute in London, Saint-Martin-in-the-Fields Church, Schumann's Concerto with the Orchestre symphonique de Guildford, Barbican home, Southwark...), USA (Staller Center), Venezuela (Festival Atempo), Malta (Festival International de Gozo), Czechoslovakia (Prague Atrium)...Just released his first solo CD with works by Messiaen, Liszt, and Pileggi.
She has given master classes in France, to Canada, in the USA, in Prague.
Short bio :
Sophia Vaillant is a pianist with a very rich background: having studied with Geneviève Ibanez and having obtained her Musical Diploma, cum laude, in the Conservatoire National Supérieur de Musique of Lyon in the class of Pierre Pontier, she went to study at the Guildhall School of London with Paul Berkowitz, pupil of Rudolf Serkin, taking postgraduate studies, in the Banff Centre for the Arts, in Canada and at the University of Stony-Brook in New York. She also participated in the Master-classes of great masters as György Sebök, Bernard Greenhouse (cellist of the Beaux Arts Trio), Jean-Claude Pennetier, Alexander Volkov (pianist of Israel Piano Trio) and won several international competitions. Sophia's skill covers a wide piano repertoire, from the Baroque to the contemporary composers (with a particular preference for the French ones). Fascinated by the tango music, she played extensively with the Orquesta Tipica of Juan Cedron, and in other tango groups. In 2013, she was admitted to the University of Paris VIII in Saint-Denis for a doctorate on the topic "interpret/composer", focused on mixed music for piano and electronic. She has performed solo and chamber music around the world (Amsterdam Concertgebouw, New Morning, Mouffetard theater… in Paris, Ukraine, Italy, Germany, Hungary, Venezuela, USA…). Besides, Sophia has managed for many years a classical music festival in the Hauts-de-France region, where she invites her colleagues to play with her. She is also president of "Femmes et Musique", and teaches at the Frédéric Chopin Conservatory in Paris district 15.